Artist: Deftones
Album: Deftones
Label: Maverick
Release: 2003
Web: Official Site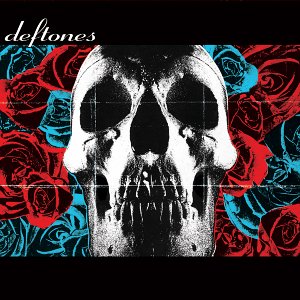 The Deftones have always been a criminally misunderstood band. For years they have been lumped into categories and sub-genres that they don't really belong in. The great thing about this band is that their music has been able to reach people of all kinds and musical tastes. They have always been a band with a lot of talent, and in the year 2000 that point came across with a harsh and beautiful force on their third album, White Pony.

White Pony was a mindblowing disc that took the band to a whole new level by adding a whole new depth and experimental atmosphere to their music. It was definitely one of the best records to be released in 2000. Fast forward three years later, and the band is just now releasing their follow up to that album. Is it better than its predecessor? No, but Deftones is still a poetic, brutal, and truly interesting addition to the band's discography.

This album is definitely a lot heavier than White Pony, and it rarely lets up. We begin with "Hexagram," a mindblowing opener that seems to paint a picture filled with commentary on religion with lyrics like, "And the crowd goes wild! And the camera makes you seasick! God it's so sweet of you and I know you're proud. And the car bomb hits quick click, faint smile!" Moving over to track three is "Minerva," the album's first single, and obviously one of the best tracks on the album. A beautiful single with a great intro riff.

The album chugs along portraying tales of confusion, paranoia, and relationships gone wrong. Chino Moreno's vocals are as intense as ever, but not as moving as they were on the band's last album. His lyrics are still top notch, both beautifully poetic and disturbing. "When Girls Telephone Boys" is another one of my favorites on the album, and features the repeated screams of, "Something's wrong with you...and I hope we never do meet again."

Production wise, this disc isn't as slick as White Pony, but it is chock full of effects. The sound of the album, as I mentioned earlier, is obviously heavy, and it is presented in a murky fashion, which fills the haunting visions of the songs pretty well. As I mentioned earlier, the band draws quite a diverse crowd. On track ten, "Anniversary Of An Uninteresting Event," the screams cease, and we are entertained by a beautiful piano ballad reminiscent of a Smiths or Cure song. Experimentation like this is what made White Pony such a great album.

This is still a decent album, but it just doesn't have the cohesive flow that its predecessor had. I was reading another review of this disc, and the reviewer noted that it is almost as if this album should have came before White Pony. I couldn't agree more. Deftones attempts to fuse the experimentation of White Pony with the brutal hardcore of their first two albums. The result is a solid effort, but it truly feels hit or miss at times. It will be interesting to see what direction the band's next album takes. Hopefully it won't take three more years to find out.