Artist: Jawbreaker
Album: ETC.
Label: Blackball
Release: 2001
Web: Official Site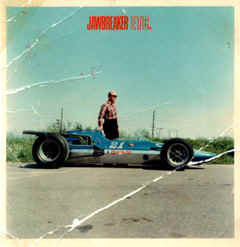 Long before venturing into Jets To Brazil, Blake Schwarzenbach was the lead singer of a little band called Jawbreaker. Do you know who they are? You should. It's about time this thing came out. This is the highly anticipated collection of a-sides, b-sides, rarities, comp tracks, and unreleased songs from Bay Area favorites, Jawbreaker. I've been waiting about a year for it, and some fans have been waiting three or four years. Was it worth the wait? Definitely.

ETC. is a great place for new fans of the band to start. It's a great introduction, as all the songs are presented chronologically from 1988 - 1995. In other words, you get to see the band progress from a gritty punk rock band to something much more.

But, it's all good. There is so much variation on this. I hadn't heard a lot of the band's early stuff, so a lot of this was quite fresh. I have no doubt in my mind that Jabwreaker is one of the greatest punk bands ever, and easily one of the greatest bands ever. Well, they're my favorite band.

Early songs like "Equalized" and "Better Half" display why these guys ruled the San Francisco scene for so many years. And songs like "Fantastic Planet" give you the notion that these guys could have easily been a hardcore band. What about the unreleased songs? There are five of them. "Peel It The Fuck Down" is an out-take from the band's second album, Bivouac. It's very eerie, and very good. What else?

"First Step," and "Friends Back East" are two strong unreleased tracks from the 24 Hour Revenge Therapy sessions. Then we come to "'Friendly Fire," a shleved track from the band's last record, Dear You. This song is incredible, and I'm disappointed that it was left off of Dear You. This album ends with a new version of "Boxcar," what some consider the band's anthem. The new version sounds very fresh, very polished, and they couldn't have ended it any other way.

This is worth the purchase alone for old comp tracks like "Kiss The Bottle," which is easily one of the best songs that Jawbreaker ever did. This is the best record that will come out this year, and it's twenty songs of pure glory. A must for fans, and anyone looking for an opportunity to be introduced to one of the most under-rated bands of all time.

But, is this the last we will hear from Jawbreaker? Nope. Drummer, Adam Pfahler is going to re-release Dear You on the band's label, Blackball Records (the same label that released ETC.). The re-release is expected to feature an extra track or something. And then, next year, bassist Chris Bauermeister is expected to make a cameo in Lauren Cass, an indie film revolving around growing up and moving on. Should be cool. Just go out and purchase the entire Jawbreaker catologue now.