Artist: Jets To Brazil
Album: Perfecting Loneliness
Label: Jade Tree
Release: 2002
Web: Jade Tree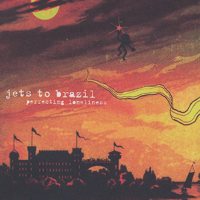 There are many facts established in the world of independent music. One of them is that Blake Schwarzenbach is a genius. That's quite clear. After emotional-punk gods Jawbreaker called it quits in 1996, Schwarzenbach sat around for a bit. In 1997, he resurfaced with a new project: the unpredictable, and varied Jets To Brazil.

1998 brought the band's debut Jade Tree release, Orange Rhyming Dictionary. It was a jet of fresh air in the indie scene, presenting a vast array of post-punk brilliance, a lot of rock across the board, and the usual pop influence. This was not Jawbreaker my friends. This was a new era for Blake and his new band-bates (Jeremy Chatelain, Chris Daly), but nonetheless, it was a flawless record that ruled in every possible way.

2000 brought us Four Cornered Night. The band added another guitarist, Bryan Maryansky. Featuring a larger pop sound, with hints of country and folk, this album took a lot of people by surprise, and even scared a good amount of Blake & co's fans (old and new) away. Four Cornered Night was the start of something new for the band, and while it certainly wasn't up to par with their debut, it still had a selection of great moments. However, it had its fair share of mediocrity as well. At this point, no one had a clue where this band was going.

It's now the year 2002. It's been a rather good year for music, far better than 2001. There have been a lot of great indie records, and even a slew of brilliant mainstream releases as well. The Jets announced that a new record would be released in mid October, entitled Perfecting Loneliness. So, here am I in mid December, playing the record again, and collecting my thoughts. Where do I stand on this, the third installment in the band's career?

1) The Frequency: This is where the record starts off. A really nice upbeat rocker, which brings you back to the days of Orange Rhyming Dictionary. The Frequency is a superb way to start off the record.

2) You're The One I Want: This takes us into poppier waters, but that's not bad by any means. A catchy little number about a lost love. As you scroll through the lyrics up to this point, you notice that Blake's writing is as lengthy as ever, throwing in more of a story telling element, while inserting the usual Blake-isms (metaphors) here and there. I'm content, so far.

3) Cat Heaven: This is a really beautiful song. The presence of the piano (provided by Blake) really brings this one together. At this point, you see just how tight this band is musically. Schwarzenbach plays so many instruments on this record that you could go ahead and call him one of the front runners for the title of "the indie Thom Yorke". Christopher Daly's drums are right on target, while Jeremy Chatelain's bass rings in the background nicely. As a guitar duo, Schwarzenbach and Maryansky are pure gold. As I get back on track, after the wonderful Cat Heaven, we move into the album's title track...

4) Perfecting Loneliness: Back into rock mode, the title track comes on, and presents itself as one of my favorite songs on the album. Schwarzenbach's lyrics are incredible on this one especially, displaying that he still does have the power to write an incredible song.

5) Lucky Charm: Wondrous piano and keyboard effects, etc continue the trend of this being a really good album (so far). A great Summer love song, filled with Schwarzenbach's usual reflective, yet heartbreaking crooning.

6) Wish List: The acoustic guitar really kicks in here. The writing starts to diversify, as Schwarzenbach steps into discussion of his family, the hard times presented with being a writer, etc. Variety is good. The chorus is insanely catchy. I'm down with this song.

7) Psalm: Here's your token religious song, but it works really well here. Another beautiful tune, as it is quite apparent that this album is Blake's mid-life reflection (Hey, he's only in his 30's). This is a guy who has certainly had an interesting life, and it's nice to see the extremely wide variety of writing on this record. Some of it isn't as strong as it once was, but at times on this record, Schwarzenbach's lyrics are at his absolute best. Psalm isn't an exception.

8) Autumn Walker: Another one of my favorites off the disc. No complaints here. Simply put, Autumn Walker rules.

9) Further North: Here we go with the acoustics again. Not a problem. This was one of the first songs I heard off the record, and I was immediately floored by it's genius perfection. "Everything here is about to break / I'm one inch from more than I can take / And it's beautiful and sad / But it's all that I have." How could you not fall in love with lines like that?

10) William Tell Override: Not one of my favorites on the record, but it's not bad. A catchy rock number.

11) Disgrace: A solid political song with an awesome jam at the end. There is a classic line, "We put a monkey in the White House!"

12) Rocket Boy: Easily one of the best songs Schwarzenbach has ever written, filled with beauty and despair, this is the perfect way to close out the record. I said it when this record came out, and I'll say it again: "Rocket Boy is to Jets To Brazil, as Bivouac was to Jawbreaker." A wonderful closer.

I really like the direction this band is going in, and I am curious to see where they go next. This is so close to being the best offering JTB has offered us yet. Orange Rhyming Dictionary beats it out by just a bit though. However, it is worlds above Four Cornered Night. Blake really put his heart on his sleeve with this one. Give this a chance. If you let it grow on you, it's worth it in the end, just to hear some of the beauty that this record displays.