Artist: Elliott
Album: Song In The Air
Label: Revelation
Release: 2003
Web: Official Site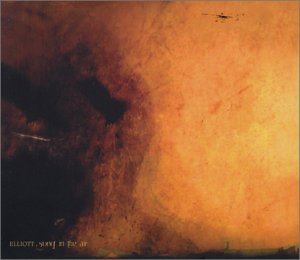 "Don't send me away. Come with song in the air. Bring your life and your love. Show that sparkles last. Drag on. Away. Maybe you're the same. Without me."

I enjoy a lot of different types of albums, but I am partial to an album that hits you at a certain point in your life, makes you think a bit, and just flat out moves you. This is one of those albums for me. I have been following Louisville's Elliott for about three years now, and while I enjoyed their music, I never got around to picking up one of their albums. Earlier this week, the band announced they were calling it quits after eight years. The other day, I had a few dollars to burn, and I decided to pick up their latest album. What a good decision it has turned out to be.

Released several months ago, Song In The Air is Elliott's third and most daring full length yet. Over the years, Elliott has gone through many line-up changes. With this release, the only original member remaining is vocalist Chris Higdon. Benny Clark has been added on guitar, Jason Skaggs on bass, and Kevin Ratterman on the drums. While I have only heard bits and pieces of their past releases, mainly 2000's False Cathedrals, you can still tell it's Elliott, and boy do they sound good.

The addition of Clark on guitar is extremely beneficial on this release. He crafts some breath-taking riffs here, somewhat reminiscent of The Cure & Sigur Ros. Even more beneficial is the addition of a string section from the Louisville area. Their contributions on this album are hauntingly beautiful, and serve as the perfect aid to Higdon's gorgeous voice. It is amazing how much this band has progressed since 1998's US Songs, which was largely influenced by hardcore/emo. This is no emo record. This is an album that avoids classifications.

"Land And Water" begins the album, and is one of the more rocking moments on the album. Clark's presence is definitely felt on this one. Filled with a mesmerizing atmosphere, this track sets the tone for the rest of the album. "Carry On" follows, and is one of the album's many highlights. It is accompanied nicely by piano and strings. Higdon and the strings really lead this one. When he shouts, "You better carry on without me" towards the end of the song you will be moved, at least I was.

"Beijing" is a piano led epic that lasts over seven minutes. By this point I was so immersed in the album that by the time the song ended I said to myself, "That was seven minutes?" Track five is "Drag Like Pull," a six minute+ instrumental with electronic tendencies. It also rocks hard, much like the album's opener. "Bleed In Breathe Out" is another enjoyable track that begins the second half of the album.

Finally, we get to the song that I've been dying to talk about all along, track seven, the title track. It is by far one of the most beautiful songs I have ever heard. If you aren't moved by this track, then I'm seriously going to have to question whether or not you have a heart. "Away We Drift" and "Blue Storm," the last two vocal tracks of the album, are spectacular, and both songs feature great climaxes. "Blue Storm" fades into "Genea," the album's final track, which is a short, yet dark instrumental that really allows you to take in everything you've just heard. It is a somber finish.

This album evokes a lot different images and emotions for the listener. It is interesting that it came out in late April because it truly feels like an essential record for the Fall and Winter seasons. But honestly, no matter when you listen to it, its depth and meaning shines through. However, with Fall coming on in a month or so, this album will definitely be getting some serious play in my collection.

Overall, not only is Higdon's voice amazing, but his obtuse lyrics are pretty impressive as well. The new additions to the band's line-up work out perfectly. I am honestly blown away by this album, and as of this review, it is the best thing I have heard yet this year. It will easily be near the top of my year end list. There isn't really a bad song here. This album is the perfect finale to their career. For those who are still heart-broken over their demise, they are doing a round of dates of Europe and the U.S. in the Fall.