Archives
As a fair warning, I'm sure a lot of these links do not work.
August 28th, 2003
Apologies for the lack of updates recently. I went back to school this week, so things have been a bit hectic. I'm rocking the community college scene for the next two years until I transfer to a state school. I'm taking a couple classes this semester. In preparation for my classes, I purchased a shiny new laptop. It is made by Sony, and is probably one of the smallest laptops I have ever seen. The clerk at the store was shocked that they were able to fit a CD/DVD drive into it. Observe my new child.

Man Without Ties reports that Paul Westerberg's side project, Grandpaboy, will be releasing a new album, Dead Man Shake, October 7th, on Anti/Fat Possum Records. The site also reports that Westerberg's official label, Vagrant, will be releasing a soundtrack to Come Feel Me Tremble, a DVD that consists of footage shot over the course of Paul's 2002 tour. The soundtrack will be released in late October, but no date has been set for the DVD. *Update: Rumor has it that all three of these releases, including the DVD, will come out on October 21st. Stay tuned.*

Most of you already know that the majority of Sunny Day Real Estate has went on to form a new band, The Fire Theft. The band will be releasing their self titled debut on September 23rd. Fans who are looking to score free tickets to a show on the band's upcoming tour, or those who are interested in receiving a free copy of the album, are encouraged to join the band's "Task Force." By joining, you agree to help promote a selected tour date, or the album itself, and in return you receive two free tickets to a concert, or a copy of the album. For more information, check out the band's site. I'll be at the Black Cat show on 10/17.

The Weakerthans released their Epitaph debut, Reconstruction Site, on Tuesday. I haven't heard it, but I should probably check it out. Maybe you should as well.

Last week, I mentoined that Elliott broke up. For those who are interested in seeing them on their final tour, check out their news group for upcoming tour dates. Click here to read my review of the band's finale, Song In The Air.

I saw Radiohead live last Wednesday in Columbia, Maryland. It was my first time seeing the band live, and I was not let down. The band played eleven songs off of their latest album, Hail To The Thief, and the live versions were far better than the often dry album versions. This was easily the best show I have ever seen in my short concert career thus far. The whole band was tight, and Thom's voice was mindblowing. My favorite song of the night was "How To Disappear Completely," off of Kid A. The band's performance was basically flawless. They even broke into a somewhat rare performance of "Creep." If you have an opportunity to see Radiohead, do so. It is worth the steep admission fee. Setlist:

1. The Gloaming / 2. 2+2=5 / 3. Sit Down. Stand Up / 4. Where I End & You Begin / 5. Airbag / 6. Pyramid Song / 7. Paranoid Android / 8. A Wolf At The Door / 9. Sail To The Moon / 10. You And Whose Army / 11. There There / 12. Go To Sleep / 13. Dollars & Cents / 14. We Suck Young Blood / 15. Idioteque / 16. Creep / 17. The National Anthem / 18. I Will / 19. Myxomatosis / 20. Just / 21. How To Disappear Completely / 22. No Surprises / 23. Everything In Its Right Place

MattSharp.net states that an LA radio station, KCRW, will be running an hour long piece on the former Weezer bassist. If you don't live in KCRW's listening area, fear not! You can listen to the feed from the station's website. Tune in for the piece on Matt on August 30th from noon to 2:00 PM PST.

Richmond, Virginia's finest, Strike Anywhere, is getting ready to release their sophomore album, Exit English, September 30th, on Jade Tree. This is the follow-up to 2001's Change Is A Sound. Sound clips and album information are available here & here.

Music: The Rentals - Must Be Wrong
August 17th, 2003
"Post-rock" heroes Explosions In The Sky will be re-issuing their debut album, How Strange, Innocence, which has been out of print for ages. A date for that has yet to be announced. Meanwhile, the band has recently completed their third album, The Earth Is Not A Cold Dead Place, and it is set to be released sometime this Fall. The band will be hitting Japan in October, North America in November, and Europe in February. Special thanks to the band's fan site for all of this information.

Radiohead releases "Go To Sleep," the second single from their latest album, Hail To The Thief, tomorrow. One version of the UK single features "Go To Sleep," "I Am Citizen Insane," and "Fog." The other version features "Go To Sleep," "Gagging Order," and "I Am A Wicked Child." Excluding "Go To Sleep," the rest of the above mentioned tracks are unreleased b-sides. "Gagging Order" is my favorite of the bunch. It is a classic Radiohead song, featuring just Thom and an acoustic. It has a lot of heart, which is something HTTT lacked in my opinion. I'll be reviewing that disc shortly. For those who cannot find the single in stores, are too broke to purchase it, or would just like a sample, someone is hosting them here. As for me, I'm seeing the band live in Maryland in just three days, so I am pretty excited. I've never seen them live before. Check At Ease for the latest RH news.
August 13th, 2003
Last month, I wrote a somewhat extensive rant concerning the return of Kevin Shields & My Bloody Valentine. As I noted in that report, four new Shields songs ("Are You Awake?," City Girl," "Golf Course," "Ikebana") and one MBV classic ("Sometimes") are set to appear on the soundtrack for Sofia Coppola's film, "Lost In Translation." The soundtrack is due out on September 9th, and the film is due out in limited release on September 19th. Until then, fans of Shields can listen to preview clips of three of his new songs over at Spectremusic.

Indie favorites Elliott announced this week that they are calling it quits after eight years. The band released their third album, Song In The Air, on Revelation earlier this year. The band still has a little touring left to do though. They'll be hitting up the U.S. one last time in November, and Europe sometime in the fall. Catch them while you can.

Pitchfork reports that DJ Shadow and co. will drop U.N.K.L.E.'s second album, Never Never Land, on September 1st after numerous delays. This is the follow-up to the band's debut, 1998's Psyence Fiction.

Adam Pfahler, the drummer of Jawbreaker, has posted a news entry over at Blackball Records regarding his adventures on tour with Jets To Brazil, and also some new information about his attempt to re-release Jawbreaker's final album, Dear You. The most important tidbit that came out of his post was his announcement that "Shirt," a song that has only been heard on live recordings, will appear in full studio form on the re-release. Unfortunately, Pfahler still does not know when the disc will be released. Stay tuned.

*You can listen to a few songs by Adam's latest project Whysall Lane over at KQED.*

Our friends over at Aggravated Music have revamped their website. Aside from that, the label recently released a compilation entitled The Aggravated Music BBQ Sampler, which features 25 songs, most importantly an unreleased track from Osker. Check it out.

Music: Shudder To Think - She Might Be Waking Up
August 10th, 2003
I went camping this weekend. I haven't done that in quite a long time. It was interesting to say the least. Smores are still good. Sleeping on a table in a camper that forms into a makeshift bed is not so good, but you've got to make due with what you can. For some reason, the hit counter on the site isn't working. I'll look into that sometime soon.

"Groundhog Day" is one of the best films ever.
August 5th, 2003
Chicago's finest, The Lawrence Arms are preparing to unleash their new record, The Greatest Story Ever Told, on September 23rd via Fat Wreck. Those who cannot wait until then have nothing to worry about, considering that the album has already leaked onto various file sharing services such as Soulseek (my personal favorite).

Bassist/vocalist, Brendan Kelly, recently posted a message on the band's website responding to the downloading frenzy, "So, I guess you cyber pirates have been downloading "the greatest story ever told"...huh? Well, that's cool, I'm just gonna tell you that you're missing out on the twenty page booklet, complete with 2 pages of footnotes which are both amusing and enlightening. Yup. That's right you Bluebeards and Captian Bly's, footnotes and shit."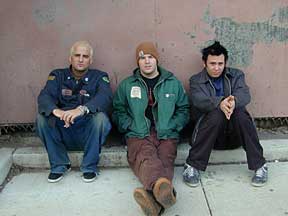 Those who do not want to spoil the entire album for themselves, but are awaiting a sneak preview, rest assured. Fat will be posting an mp3 of one of the album's 14 songs shortly.
August 3rd, 2003
Thank god July is over. August is here. I start school in three weeks. High fives to my fellow community college viewers, if any. The public school system seems to have let me down, so I decided to end the misery of high school and take classes at the community college level for two years, and then transfer to a state college. Should be interesting.

Bill Maher is a genius. If you aren't watching Real Time With Bill Maher every Friday night at 11 PM EST on HBO, then you are missing out. Politically Incorrect was great, and so is this. Even if you don't agree with some of the stuff he has to say, then at least you can admire him for being openminded and brutally honest.

Two great bands from New York are touring together throughout August, September, and October. Who are these two bands you ask? Nakatomi Plaza and Marathon. Both bands feature ex-members of De la Hoya, an amazing New York band that broke up in April of last year. They are bound to hit your town eventually, so check them out. In the meantime, you can check out my review of De La Hoya's final release, 2002's Wipe The Slate Clean...

I just thought of something extremely terrifying. Could you imagine sitting down at a table with Andrew WK, Garey Busey, and Henry Rollins? Just picture it. Scary, eh? Oh, and no matter how stupid you think I'm With Busey is, you know that deep down in your heart you find it amusing for some sort of reason. I know I do. I'm not afraid to admit it!

When are labels going to learn that tribute records aren't cool? Jawbreaker is the latest victim of the dreaded tribute album. Dying Wish Records just released it, and it features a vast array of pop punk bands. I've only heard four or five of the seventeen songs covered, so I can't make a full opinion, but what I heard wasn't too good. However, Nerd Herder's cover of "Chesterfield King" was great. Bonus points to them. In the end, I'm just biased, due to the fact that Jawbreaker is my favorite band of all time. Ignore me, please.

Here's one last random plug. Check out Junetile, a cool little band from Toronto. Someone on a message board recommended them, and I downloaded a few songs that I enjoyed greatly. If you like The Gloria Record, The Red House Painters, or Sigur Ros, then you will probably love these guys.

I'm going into DC in the morning to wander around. I better get some sleep. Later.
July 30th, 2003
My lengthy review of the new Appleseed Cast record is now up. Check it out.
July 28th, 2003
I meant to do this a few days ago, but I wanted to send out my condolences to the families of those who were lost in The Exploding Hearts tragedy last week. I hadn't heard the band before the accident happened, but I had heard of them. Well, it's a shame that an event like this is what led me to check out a couple of their songs. The songs I heard were great. This band was amazing and youthful, and there was just something so innocent and sincere about the music they produced in such a short time. These guys will not be forgotten.

Music: The Exploding Hearts - Rumours In Town
July 24th, 2003
If you are a Sunny Day Real Estate fan, then you know that the band (minus guitarist Dan Hoerner) formed a new group, The Fire Theft. Last month, it was announced that they have signed with Rykodisc, and will release their debut full length in late September. Well, the band has released a number of tour dates stretching from late September to mid October. They are playing in D.C. on October 17th, so I am quite excited about that news.

The good folks over at PunkNews reported the other day that Bob Nanna & Co., otherwise known as Hey Mercedes, have posted a new song on their website entitled "Quality Revenge." Bob's vocals sound great, and his lyrical work is still top notch. The sound of the song is very similar to their debut full length, Everynight Fireworks. That was a fine album, but I'm hoping the rest of their new record, Loses Control (Due out 10/7 on Vagrant), expands on that sound and switches things up a bit. Be sure to check out the band's journal for their amusing commentary, and catch them on tour soon.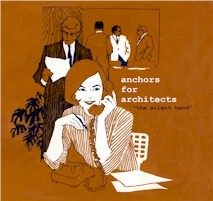 Anchors For Architects, a small indie band from Santa Monica, California, is leaving for their first tour today. They are a really great band, and they are worth checking out. The band just completed their first full length, The Silent Hand, and they will be touring to promote it until the end of August. Check out their website for dates and song downloads.
July 21st, 2003
The interview with Chris Fuller is now up. Two Conversations by The Appleseed Cast is out tomorrow. Go pick it up. I would, but I'm quite broke. However, I have heard the disc and it is really great. I don't want to compare it to the LLO series yet, but it is a great follow-up album filled with a lot of really beautiful moments. I'll review it soon.

Music: The Appleseed Cast - Two Conversations
July 16th, 2003
Sometime over the next few days I'll be posting an interview with writer/director Chris Fuller. His current project is the coming of age film "Loren Cass," and it has gained quite a bit of support from the underground music community, due to the fact that it features a lot of really great music and cameos, including Jawbreaker's Chris Bauermeister and Against Me's James Bowman. If you can, check out Fuller's website. It's worth the time. Speaking of films, if you have a chance to see "28 Days Later," then do so. It is a great flick.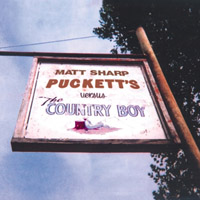 Matt Sharp of Weezer/Rentals fame has a new solo ep out entitled "Puckett's Versus the Country Boy." Click here to listen to "Goodbye West Coast" and purchase the album. Sharp just finished up a huge tour, but more dates are expected soon. Ironically, I'm a huge fan of Matt's work, and I actually ran a Sharp website a few years ago. Unfortunately, I became lazy, as I often do, and the site fell apart. These things happen. Oh well.
July 15th, 2003
Last week I was thinking to myself about how this has been a pretty slow music year thus far. Well, that opinion may be changing. On 7/10, NME reported that Frank Black of Pixies fame often dreams of the band re-uniting, and that they still jam occasionally. While I find a Pixies reunion pretty unlikely, it was nice to hear news like that. The other day, a friend alerted me of an article posted at Billboard that reports that Kevin Shields of My Bloody Valentine will be contributing four solo pieces to the upcoming Sofia Coppola picture, "Lost In Translation." The film comes out this Fall, and the songs are entitled, "City Girl," "Golf Course," "Ikebana," and "Are You Awake?" Aside from that, the song "Sometimes," courtesy of My Bloody Valentine's 1991's Loveless will appear on the soundtrack as well.

The news of Kevin's return was mindblowing to me. He hasn't been heard from in quite sometime. My Bloody Valentine hasn't released anything since Loveless, which I might add is also one of my top favorite records of all time. A friend sent me a message this morning and linked me to an article posted on Pitchfork. This is where things get really interesting. They report that the band, which currently consists of Kevin Shields (Vocals/Guitar), Colm O'Ciosiog (Drums), and the lovely Bilinda Butcher (Vocals/Guitar), is in a Berlin studio re-recording five abandoned songs from 1989's Glider EP for a boxed set schedueled to be released later this year. What else will be on this set? Only time will tell.

Hopefully a bunch of other goodies will be included, considering the fact that I believe the band must have a bunch of other unreleased material. Let's just cross our fingers that this is indeed for real, and that the band actually gets around to releasing this. If you have yet to be exposed to the wonders of My Bloody Valentine, then you need to march out to your local record store and pick up a copy of Loveless. You'll love it or hate it. Regardless, at least you'll be attempting to expand your tastes. This is the best news in ages.

Music: My Bloody Valentine - To Here Knows When
July 9th, 2003
One of my all time favorites, The Appleseed Cast, will be releasing their latest album, Two Conversations (Tiger Style), on July 22nd. The album takes the experimental elements of the bands' amazing double disc set, Low Level Owl, and combines it with the rocking sounds of their earlier albums. The band will be embarking on a West Coast tour in August. Check their website for dates. A September trip to the East Coast is also being planned.

Mark Kozelek (Red House Painters) will be releasing a new album this October. The new release is expected to come out on Jetset Records. For more info on Kozelek, go here.

On a random note, I received my Radiohead concert tickets in the mail yesterday. This has been a strong year for concerts. Beck, Jets To Brazil, and Radiohead all in one year? :)

Music: Codeine - New Year's
July 4th, 2003
I saw Jets To Brazil last Friday at the Black Cat in Washington D.C. They played a great set. Not only did they sound extremely tight as a group, but you could really tell that they were putting everything they could into their performance. Before the show, I was able to talk to Blake briefly, and he autographed a couple things for me. He was very cool. Here is the set list: 1. The Frequency / 2. Chinatown / 3. You're The One I Want / 4. Your X-Rays... / 5. Perfecting Loneliness / 6. In The Summer's When You Really Know / 7. Psalm / 8. Orange Rhyming Dictionary / 9. Lemon Yellow Black / 10. New Song / 11. Sea Anemone / 12. Rocket Boy (Encore). Here's a few pictures. Click the links to view them:
June 26th, 2003
I'm still working on this new design, so bare with me. I had a cardioligist appointment this morning, and at the moment I have a bunch of wires attached to me that are measuring my heart rhythmn. It's no picnic. I was reading a Cure website, and learned that Robert Smith and co. are working on a new album, due out next year. Should be interesting. I also heard that Robert will be appearing on the upcoming Blink 182 record. The presence of that man's genius in Blink's studio must have intimated those kids to no end. But then again, I'm not one to talk. Why? They were one of my favorite bands in middle school, unfortunately.

The RIAA is threatening to sue mp3 downloaders who are sharing massive amounts of copyrighted songs. This whole thing has just gone too far. Threatening file sharing users sure isn't going to boost mainstream record sales. The reason those sales are down is most likely due to the fact that there isn't a whole lot of interesting material out there in the mainstream currently. Everything just kind of blends together. Personally, I am a clear supporter of file sharing services. I have been using them for several years now, and I still buy a large load of albums. In fact, yesterday I purchased the new Mars Volta album (amazing), and the new Sigur Ros Single/DVD (amazing). This law suit threat is just going to make things even worse. My parents even thought this was ridiculous, but then again, they are pretty liberal.

I'm going to see Jets To Brazil tomorrow night in D.C. The Jets are one of my favorite bands, and Blake is pretty much my favorite songwriter of all time. It should be a pretty good evening. Be on the look out for new additions to the site, and a lot of reviews...soon.

Music: The Smashing Pumpkins: 1979
June 24th, 2003
Look what the cat dragged in. Yours truly. There hasn't been a new issue of the zine since August, which in my eyes is quite pathetic. I have given up on hand-publishing the zine, so I will just post random information on this website for now on. I apologize to all who were expecting a third issue. Maybe something will come of it in the future. My absence over the last few months can be explained by various reasons. But they aren't worth going into.

Music: Explosions In The Sky - Snow & Lights
March 14th, 2003
Reviews of the following albums will be posted this weekend in a mini issue of issue three (due to the fact that I am a useless log who takes six months to follow up on issues)...

Appleseed Cast, The: Lost Songs
Ataris: So Long Astoria
Beck: Sea Change
Books On Tape: Throw Down Your Laptops
Coldplay: A Rush Of Blood To The Head
De La Hoya: Wipe The Slate Clean, Now Let's Begin
Jets To Brazil: Perfecting Loneliness
Matt Skiba/Kevin Seconds: Split
Minikon: Self Titled
Nada Surf: Let Go
Owen: No Good For No One Now
Pavement: Slanted And Enchanted (Special Edition)
Running Late: Your New Addiction
Sigur Ros: ()
Solid State Receiver: Self Titled
January 7th, 2003
The reviews, interviews, and poetry pages have been updated. I added some things from past issues that hadn't been uploaded on to here yet. I have a lot of things to review for the upcoming issue. I just got a really cool disc in the mail today by Books On Tape. It's electronic music, but is described as "beatpunk." It's very neat. And no, when I say "beatpunk," I am not talking about bands like The Transplants. Here's a quote from the press release to sum up Books On Tape perfectly, "In a time where everyone seems to be in a beat-oriented band, Books On Tape finds a way to shine through by being rough at the edges, rather than meticulous and theoretical. Books On Tape is primarily about laying down the rock. Hidden within this rock is a complex world designed to send your synapses firing into psychedellic space - but this is only to enrich your dance experience. Books On Tape looks to the Pixes and Pavement for inspiration much more often than John Cage or Aphex Twin." It's good stuff. Look, I'm trying to expand my horizons. Look for a review of the Books On Tape album soon. The Grammy Awards came out today. Awful as expected. However, Beck's latest record Sea Change is nominated for Best Alternative Music Album. I hope he wins. He's in my top five. Later kids.
January 5th, 2003
Issue #3 will be released within the next two weeks...online. I'm going to try to do this issue online to see how it goes. I feel like a prick because it took me nearly five months to do a new issue, which just isn't cool. If there is an issue four, then it will definitely be released a lot quicker, and probably back in the usual DIY mailorder form. What's up with Issue #3? The usual rantings, a top five for the year, and more. I think I'll go shoot a new roll of film tomorrow as well. Here's some random garbage...
Belle And Sebastian are cool.
High Fidelity is now one of my favorite films.
Sophomore year is a downer.
I get my driver's license in 73 days.
The new Beck and Sigur Ros albums are amazing.
Kevin Corazza offered me a position at United Front Zine. I took it.
Lord Of The Rings 2 was good.
The holidays are evil, yet I got a new bass amp so I'm semi-content.
I was at a punk show the other night. I so did not belong.
Hmm, that's all now. Write me an email teling me that I'm a lazy bastard.
November 28th, 2002
As a preview for the next issue (whenever it comes out), I'm offering you a glance at my interview with Adam Pfahler of cult legends Jawbreaker. Click here to read it. Happy Thanksgiving.

Mood: Cold
Music: Sigur Ros - ()
November 21st, 2002
Wow, I haven't updated this in a while. Issue #3 still isn't done, which is rather inconvenient, not only for me, but for anyone who is anxhious to get a hold of it. Well, that's not a lot of people, but that's okay. Things have been strangely busy these days. I promise to get #3 out by the end of the year. School has been lagging me down. I apologize. I promise that the issue will be worth the wait though. So, yes, the new issue will be out eventually. Don't rush me though. I'm lazy and impatient.

In random information, the new Owen record, "No Good For No One Now" simply rules. If you are looking for something to fall asleep to or find something to prevoke reflection, then this is for you. Not only is Mike Kinsella a musical and lyrical master, but he has also found a way to use the word "fuck" in a clever and amusing way. Bonus points my friends. Go to Polyvinyl and pick this up

Hey kids! The Ataris are coming to to town! Washington D.C. that is. These guys aren't one of my favorite bands, but I have this unique respect for them. They are different than the average pop punk band. They are not the average pop punk band in fact. I love the huge Jawbreaker influence these guys have. Maybe it's just the fact that they treat their fans so nicely. Anyways, a friend offered me a ride, so I obliged. I'll have a good time, but it's a shame the opening bands completely bite.

I have also been listening to a little (well, they are pretty huge) band from Iceland named Sigur Ros. These guys are amazing. I haven't heard all of their new album, entitled (), but what I've heard so far is absolutely mindblowing. They are touring the U.S., so please catch these guys if you can.

Rory & Gabe from one of my favorite Texas bands (nothing beats Mineral), The Impossibles have a new band called Slow Reader. What I have heard from this is very cool. The self titled album will be out on Fueled By Ramen on the 26th. They are also touring, so check it out.

Frozen pizza is still great. Why this was mentioned? I do not know.

Bob Banna is a good man, and an even better musician.

I finished the first quarter of the tenth grade. I will survive.

Well, I'm in a band. This is another reason I have been slow with work on the zine. The band is taking up a lot of time, but it's seriously worth it. I'm having a great time making music, and just hanging out with the good people who are in it with me.

Thanksgiving is coming up. I'm down with Christmas (well most of it), but I am not a big fan of Thanksgiving, other than the fact that I get nearly five days off for it. Anyways, happy holidays.

I think it's time for me to go. More updates soon, and the new issue eventually (seriously).

Mood: Unknown
Music: Track Star - The End
October 9th, 2002
So far, the new issue will feature interviews with Adam Pfahler of Jawbreaker, and Chris Fuller, the writer, director, and producer of Loren Cass, an upcoming indie film about "growing up and fading out." I have already completed the interview with Adam, and it was such a blast chatting with one of my favorite drummers of all time. Pfahler and I spoke of the recent ETC. release, the progress on the re-release of Dear You, mix tapes, the future, and more. The interview with Chris will be completed shortly. There will most likely be a couple more interviews, but this is what we have so far. Seeya.

Mood: Tired
Music: The Montford Complex
October 6th, 2002
"I guess I'm not a gambling type but think of what the two of us had lost. I needed some time to think it out. 7-Eleven parking lot. A toothless woman turned and stopped. I gave her a dime and a Chesterfield. She leaned down and kissed my cheek. I was scared but it felt sweet. Felt so sweet. She asked me if I had a name. I told her I was glued up on some chick. We sat and smoked against the wall. Drank a beer, felt the chill of fall." ~Jawbreaker, Chesterfield King

Check out www.sfpunk.com. It's a really cool message board where you can discuss music of many kinds. Great stuff. They linked us, so we're returning the favor. Good times.

Here's something random called "Ten Questions From Huey To You." If you are bored, and have nothing better to do, than fill out the survey, and post your answers on the message board. But before I get to that, I made a little button, and I'd like you guys to post it on your websites, please...

1. What are five songs that make you think of Fall: Jawbreaker - Chesterfield King ; Generation X - Kiss Me Deadly ; The Promise Ring - Letters To The Far Reaches ; Radiohead - High & Dry ; The Smiths - I Know It's Over

2. What are a few of your favorite movies: Ghost World, Chasing Amy, Dead Poets Society, Can't Hardly Wait, SLC Punk, Eight Days A Week, Pi, American Beauty

3. What are three things you look for in a member of the opposite sex: Personality, kindness, good musical taste

4. If you could change one thing about yourself, what would it be: Not to feel everything so deeply. It helps a times, but it doesn't at others. It's ok

5. What are the books you've been glancing at lately: Twenty Prose Poems by Charles Baudelaire ; The Perks Of Being A Wallflower by Steven Chbosky ; various reading assignments that aren't fun or amusing by any means

6. What do you do in your spare time: Write, listen to music, talk to friends, play bass

7. Is President Bush a hero or a villian: He's just un-intelligent. Bush is like a little boy who has a huge toy (the nation) and he doesn't know what to do with it. So he just tosses it down like a huge pile of Legos

8. If there were four bands that are now broken up that you wish you could see live, what would they be: Jawbreaker, Mineral, The Smiths, Husker Du

9. If you had a choice between a life of sleep and a life of constant waking, which would you take: I'm not that much of an insomniac, and sleep is comfortable and at peace.

10. Favorite color and why: Blue, because it's deep. The colors of leaves during the Fall, because it's significantly beautiful.

Mood: Bored
Music: Jawbreaker
October 5th, 2002
Reviews from Issue #2 are slowly being posted...

This site owns. Nostalgia! Nostalgia!

Submit stuff for the next issue or give me ideas.

I had band practice yesterday. It went well. More info, including a website, soon. Looks like over a year of bass playing has finally paid off.

I'm going to pick up my glasses today. Yes, me, with glasses. Nerdcore girls rejoice! Then, I'm heading over to the book store with a friend. If you have any questions about the new pricing, then ask.
Later!

Mood: Seasonal
Music: The 6ths - Falling Out Of Love With You
September 29th, 2002
Click here to view photos from my random journey around town today. Some of these will be used in the upcoming issue. Special thanks to my friend Erin for providing the camera & a good time.

I picked up my bass again this week and realized how much I have improved (skill-wise) over the last year. I'm actually pretty decent now. A few friends and I were talking the other day, and I think we are going to start a band soon. A nice little experimental three piece. But, we'll see.

Chasing Amy is a great movie. Too bad Kevin Smith lost 99% of his credibility. Maybe his next flick will be better. If the next one sucks, then 99% goes to 100%.

Fall is now my favorite season.

Find a file sharing service and rip the new Nada Surf album as soon as possible. It's called Let Go, and it is really great. You'll see it spoken of in the next issue, and it will most likely find a spot into my top five list of the year, which will also be featured in the next issue, due out in November.

Well, I kind of freaked out when I realized that I will have my driver's license in about five and a half months (watch out), and that in about a year I will turn 17.

The new Dischord 20th Anniversary Boxed Set is out now, and it looks pretty rad. Even though I hate Minor Threat (Fugazi is great though), I admire the amount of influence that Ian and Dischord have had on the underground music scene.

98 Mute broke up, and so did Fenix TX. I heard stories about pop-core kids crying themselves to sleep after hearing this news. Excuse me while I go stare at an empty street in the pouring rain.

Halloween is fast approaching. Has anyone ever seen the episode of Pete & Pete about Halloween? Great episode. I think, just one last time, I'm going to go out this year and get a shitload of Reese's Peanut Butter Cups, so I can come home and become a hermit, but have candy for entertainment. Why does Nickelodeon have to suck so bad now? It's really not fair.

Charles Baudelaire was a great writer.
I haven't been invited to a party in about three years. Not that it bothers me. I'm not a big fan of parties anyways.

Mood: Anonymous
Music: Nada Surf - Blonde On Blonde
September 20th, 2002
Work on the new issue begins this weekend. I am desperate for poetry submissions, short stories, random photos, etc. Submissions are due in by October 31st, 2002, unless otherwise noted. The first issue of my school's newspaper came out today. It was a small eight page ramble about various issues that the administration believes are "important." The most amusing fact of the day is that the last issue of THIS zine was fourteen pages, and I wrote around 70% of it on my own.

If you were wondering what I was rambling about a few weeks ago when I said that the new issue will be more personal and obtuse...well, basically, it is going to feature an enormous amount of poetry, stories, free-lance writing, and of course random photos which are, for some reason, appealing to me. Of course, there will still some music features here and there, but this will be an issue where I just want to step back and experiment with some things. More information soon!

Lifetime is the greatest Jersey band ever. They were a hugely influential band from the early 90's that played emotionally charged punk. For your own good, download some songs at Jade Tree.

Check out my friend Dylan's band, A Letter Home. They are a nice little band out of West Virginia. If you are into the whole screamo thing, you will love these guys. Dylan was also in Solid State Receiver (RIP), a cool melodic-punk-etc band. SSR was cool, and ALH is nice as well.

Look! The site doesn't look as shitty now!

If you have been wondering why there haven't been any updates lately, then I'll tell you why. The last month has consisted of the following in order: Grandmother dies the last week of Summer ; Starting school up again ; Relationship of ten months with girl ended ; and plenty of other shit. But, alas, my life is getting back on track, and things are looking up. Fear not! I'm ok, but the last month sucked.

We had a motivational speaker at school yesterday. Instead of providing motivation, the guy just rambled for 45 minutes about how he used to be in a gang, got shot thirteen times (yeah right), and how you should not smoke, have sex, or drink. He even gave out "I'M A VIRGIN" shirts. Ha!

I want to take a second and take a jab at the whole "Rancid culture." Am I the only one out there who thinks that Rancid is total garbage, and said band has only influenced more garbage to be created? I just get completely turned off when I see or hear this band. Rancid members have also ventured into a few side projects, such as Epitaph's upcoming "band", The Transplants! More garbage, and more things I won't buy. Everyone I run into that is hugely into Rancid is also into the whole anarchy thing, and also love to discriminate people. It's like, "Ok, what the fuck are you fighting for again? I'm sorry. Is this anarchy? Oh, I apologize, you're living in a dead scene."

"I'm part of the rip-off-generation." --Huey, on how his generation has basically ripped off all fads from 30 years ago, and struggles to think of its own creative ideas.

I am working on a re-design of the Armed With Intelligence site. AWI is a hardcore/old school punk band from New York. Really nice people, with an extremely positive unity message to spread.

Hey guys! I'm getting glasses this weekend! I'm nearsighted, seriously. Rock out!

I was at the mall recently. Mall culture scares me. But, I found sour candy and nice slush drinks.

Girls who take pictures are nice.

If you need a laugh go over to EmoGame. It's an actual game that revolves around The Get Up Kids getting kidnapped by Aerosmith, and you must save them by taking the role of other "emotional characters," such as Chris Simpson (Mineral), Tim Kasher (Cursive), Chuck Ragan (Hot Water Music), Cedric Bixler (At The Drive In), Conor Oberst (Bright Eyes), Atom (Atom & His Package), and that Dashboard guy. Such levels in the game include a Hot Topic store, where you fight Rivers Cuomo (Weezer). Other levels include beating the shit out of Jimmy Eat World at MTV studios, killing The Anniversary, and much more. It's a fun, and free game. Play if you're bored.

Let's give it up to Dan for praising the current issue on the message board: "I got it!!! Yay!!! I've read the entire thing and I must say, it was pretty damn good. Keep it up." Yes, thank you Dan.

Send me emails or post on the message board!

Mood: Reflective
Music: Jawbreaker - 24 Hour Revenge Therapy

In Sadding Around is one of the best songs ever. However, 24 Hour is not the best Jawbreaker record kids. That spot will always belong to Dear You, which still remains my favorite record ever, despite what my friends say. Dear You is like the story of my life. From break-ups, to hospital rooms, and desolate apartments, it has everything!
September 2nd, 2002
Since I am such a nice guy, I am going to go ahead and plug my friend's oi band, Mutant Death League. I watched them do a half band practice the other day, and they pounded out an interesting cover of "Filler," by Minor Threat. While I am not big on the oi scene, it was a good time sitting in a basement, drinking soda, and watching the musical process of a band slowly progress.

I'm also going to give a plug to a little band called No Knife. They have a new album coming out on September 3rd, entitled, "Riot For Romance." They're signed on Better Looking Records, who also house such bands as The Jealous Sound (EX Knapsack), another band I also recommend highly.

Lastly, I want to give a link out to Stuck On You, which is the coolest site for buttons, ever.

QUOTE OF THE DAY: "Whenever I meet a beauty, I escape or hide in a corner. Not that I think they are intimidating, but they attract horrible people. Some guys really do their utmost to make these beautiful women believe how good they are. Beauty means power. And I'm a bit cynical towards all that. Honestly I've never met a beautiful girl that I really liked. You never get the chance to really get to know them. Result : I don't even take the effort now to try to meet them." ~Thom Yorke

Mood: Melancholy
Music: No Knife - Flechette
August 31st, 2002
The next issue is going to be much more obtuse and personal. I've gone through some deep shit recently, and aside from that, my views towards music are continually changing. I've just had some rough times recently, and I feel I have the power to take the zine in any direction, and I'm at a point in my life where I have a lot of personal things to say, so the next issue is definitely going to be a lot different in ways that I don't really know yet. I'm sorry for making this update seem so bleak.

Issue 2 is selling nicely at the moment, and that's probably one of the only things in my life that I'm happy about right now. Special thanks to Mitch for promoting the site. I've received so many nice emails from kids the last few days sharing their stories with me, and as I was reading them the other night, I was overcome with a smile across my face. And that was what I really needed.

I have a journal at http://www.deadjournal.com/users/nopatience.

The weather is beautiful.

My birthday is next week. With 16, old things are leaving, and maybe something new will enter.

Mood: Moving On
Music: Face To Face - Lost (Acoustic)

And all I thought I want I lost it all tonight

Do you know there's only so much you control?
You can try to save my soul if you like
But I'm sure this time it's no different
August 24th, 2002
Sorry for the lack of updates. I've spent the last few weeks sitting in the summer slumber, and aside from that, I just got back from a funeral a few days ago. It feels like nothing has been going on, but I have a lot of stuff on my mind. Issue #2 has encountered a very warm reception, and I've even sold a couple copies. Over the next month or two, I will be attempting to promote it heavily. I've got a ton of copies left over, so if you want one, just send an email over. And to those who have sent money away for an issue, I will be mailing those copies out to you this week. So, hang tight.

As for musical tastes latetly. I've been listening to a lot of the new Dillinger Four. I've also been going over to my friend's house to watch bits and pieces of the Talking Heads DVD, "Stop Making Sense." If you have yet to see David Byrne's "Self Interview," then you are a deprived human being. Funny stuff. Other than that, I've been listening to The Impossibles, Screeching Weasel, The Smiths, The Pixies, Samiam, Jawbreaker, Braid, The Promise Ring, and a few other things. The new Jets To Brazil record comes out in October, and from what I've heard from it so far, it's their best yet. I'd just like to elaborate on that, and say that this has been a pretty good year for music in general.

I go back to school on Monday, so that's kind of creepy. Sophomore year, do I sound excited? As for the next issue, I have no idea when I will even consider starting it. That could be quite a while from now, but we'll see. Go out and enjoy these last days of Summer, because the season is nearly over.

P.S. I posted my interview with Devon Williams. I got way too many emails about this one.

Mood: Eh
Music: Nada Surf - Popular
August 3rd, 2002
Issue # 2 features the following reviews of The Appleseed Cast: Low Level Owl V.1; Cursive/Eastern Youth (Split), Jawbreaker: Etc, and many more. Aside from that, there are interviews with Devon Williams of Osker fame, who has a new band entitled Lung Fa Tang. I also spoke with Mitch Clem, the author of Nothing Nice To Say, an insanely awesome punk rock comic strip. There's an absolutely incredible review of a local show we just had here, and a few articles spanning such topics as MP3 use, and the art of reviews in general. Yeah, and there's more. I'm not the only one writing this issue. My friend Traci contributed an article and a review. Genny wrote the show review I mentioned. And another good friend of mine, Andrew wrote a remarkable piece of poetry, and also went out for an entire day with me and helped snap pictures of some of the most random objects in our town. Yeah, it's a pretty big issue, and I think I left a few things out in this summary. Anyways, this will be released on 8/9/02, so email me at hueym3@earthlink.net for info on how to receive a copy. Believe me, it's worth the $1.00. This is an extremely cool issue, a very good read.
August 1st, 2002
Woah! Long days! I got back late last night from an insane local show, which will be fully covered in the new issue of the zine. Speaking of that, it's coming along nicely, and it should be completed and ready to ship by the end of next week. We are still without a distro, so if you are interested in distributing us, then please email me. Don't forget to email me if you want a copy of the new issue!

Our friend Devon from Lung Fa Tang will be doing a few shows with his other band, Roscoe. INFO: *If you live in the Los Angeles area* Roscoe is performing at The Smell on August 16th (247 S. Main st. downtown LA.) It'll be cheap and it'll be late. --Devon
July 20th, 2002
Nothing going on really. The new Jawbreaker record comes out on Monday. Go pick it up. It's incredible. Check out Blackball Records for info. Look for a review of it next month. Also, if you are a fan of Pretty Girls Make Graves, then you may want to check out 120 Minutes on MTV2 on Sunday (7/21/02), because their new video, "Speakers Push The Air" may be airing. Awesome. It's really cool to see a good band getting some promotion. Hopefully it won't go to the band's head.
July 13th, 2002
The zine will now be known as Unfinished.
July 11th, 2002
The featured band for Issue #2 (August/September) will be Lung Fa Tang. I was recently able to interview lead singer Devon Williams through email. I feel that that a lot of people will enjoy this interview. Special thanks to Devon for helping out. Look for it out sometime in August. If you are still looking to order Issue #1, then please email me at hueym3@earthlink.net. I'm leaving, bye.
July 10th, 2002
Issue #1 is completely finished, and has been for quite sometime. It's the June/July issue. I let it sit around for a while, but I'm starting to really give this a serious go. I'm getting ready to mail it away to some very nifty distro's, and within two weeks we should at least have 1 or 2 forms of distribution. I'm really proud of the first issue, even though it is only 8 pages. It's $1.00, and that will be the set price for each issue. For more information on what is in the 1st issue, go to the "issues" section.

As for Issue #2, the August/September issue, I'm starting to get ready to put it together. I have yet to land a featured band to interview, but I think I've got a few candidates up my sleeve. Aside from an interview, expect a shitload of poetry (maybe even a few contributed pieces), a column or two, a ton of reviews, and if I attend it, I'll even throw in a "My Day At The Warped Tour" story. Hopefully I can think of a few other things too, as I'm hoping to make this issue a lot more lengthy, which will make your $1.00 investment more worthwhile. That's about it for now. Hope you enjoy the new site.
© 2003 - Please contact me before using anything found on this site.